Our first year of Staunch Book Prize was full of surprises!
The launch of the prize was met with excitement and cheers from many people, but with public outcry by some crime writers, who made their dislike of this new upstart award widely known…
We were warned by some that publishers would give us a wide berth. Luckily, that was far from the case. We had a great many entries from publishers and our shortlist included two titles from mainstream publishers, three from independents and one unpublished manuscript.
We opened our entries to self-published and unpublished work as the sheer domination of crime fiction in the thriller market – much of which features sexual violence towards women and an abundance of female murder victims – makes it harder for thrillers that don't feature those things to find their place.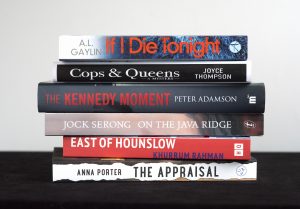 Our SHORTLIST last year was a very strong collection of novels, each of which would be worthy of  a place in any thriller competition. Feedback from people who have read all or some of this list has been incredible, along with amazement that we managed to find such a diverse and original range of writing. There were three male and three female authors and the winner was Australian JOCK SERONG with his truly exceptional and topical On The Java Ridge.
PUBLISHERS We are very publisher friendly! We hope you enter a title or two for this year's prize. Entry is a one-page synopsis and the first 5000 words. If your company accounting systems make it difficult to enter via our submission form and online payment, we are able to invoice you and accept entries by email or post. They are then entered into our submission system manually and are read blind with the other entries.
When we call for full novels, these are requested as PDF files. We are also happy to accept printed novels if that works better for you.
AGENTS We are happy to accept work looking for attention before it has found a home. We will also be glad to discuss the kind of work you might be interested in representing and pass on suggestions from our submissions list with the author's permission. Just ask!
Please get in touch via the ENQUIRIES form if you have any questions or requests. And sign up for our NEWSLETTER to be kept up to date with developments during the year!