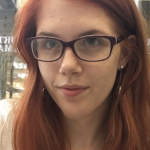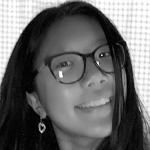 Stanley and Zhang crowned Staunch's short story and flash fiction winners
Published October 12, 2020 by Katherine Cowdrey
Laura Stanley, a creative writing graduate and Masters student at Nottingham University, has won the Staunch Short Story Prize with her unpublished story "Mrs Hawkins and The Orchard".
Meanwhile, Sophia Zhang has taken home the Staunch Flash Fiction Prize for her 300-word "thriller"-themed work "1950's Washing Day". 
Stanley (pictured left) was chosen as the winner of the Staunch Short Story Prize after hundreds of entries poured in from all over the world. The prize follows the original Staunch Book Prize criteria for a work in which no woman is beaten, stalked, sexually exploited, raped or murdered. Also on the shortlist were Hayley Magrill with "Flyer", Malia Márquez with "A House So Beautiful", Susan Morritt with "I've Got The Sauce, If You've Got The Pasta", Gabrielle Rupert with "Manik", and Judy Upton with "The Lion".
Chicago high school student Zhang (right) also impressed the judges, fighting off tough competition from an international field to win the flash fiction prize, according to Staunch. The task was to pen a story of no more than 300 words, guided by the theme "thriller" and following the same criteria that there should be no violence to women included. Shortlisted alongside Zhang were authors Hayley-Jenifer Brennan with "The Woman In Red Takes The Stand", Georgia Cook with "A Stickler For Convention", and David Davies with "When The Noise Stopped". 
Staunch short-form judge Rachel Marsh congratulated the winners, commenting: "Staunch's short and flash fiction entries show an incredible variety of high-calibre writing from both new and seasoned authors. It's been a delight to be a part of this process. The chance to read so much new fiction is truly an honour, and I believe the shortlists and longlists represent the best the genre has to offer"
The shortlist for the original Staunch Book Prize will be announced on 2nd November, with the winner's announcement following on 25th November, the International Day for the Elimination of Violence Against Women.