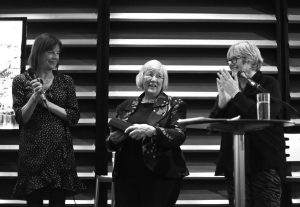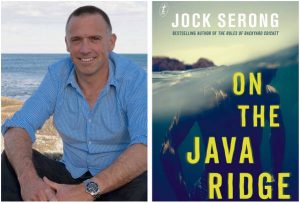 Doon MacKichan and Bridget Lawless congratulate Liz Parsons who collected the award on behalf of her cousin, Australian author Jock Serong, for his wonderful novel On The Java Ridge.
Inaugural Awards Evening
On 26th November, writers, publishers and Staunch supporters gathered at Sony Pictures Entertainment in central London for the Staunch Book Prize awards evening, hosted by Staunch founder Bridget Lawless and actress women's rights activist and Staunch judge Doon Mackichan.
There were plenty of reminders of why the Staunch Book Prize was set up. Doon spoke of the traumatic experiences of actresses who have to play violent rape and assault scenes for film and television. Bridget challenged the proliferation of graphic depictions of violence towards women and how it has become normalised in popular culture. The event also referenced the International Day for the Elimination of Violence Against Women (25th November), which itself marked 16 days of action globally to draw attention to the issue and demand change.
Nevertheless, it was an evening of celebration and we were delighted that three of the shortlisted writers were able to attend and to read from their books: Khurrum Rahman read from East of Hounslow, Joyce Thompson read from Cops and Queens and Peter Adamson read from The Kennedy Moment.
The other authors were unable to cross various oceans to join us but Selaine Henriksen – one of our long listed authors – came all the way from Ottowa to join us and read from A L Gaylin's If I Die Tonight and Reina Lewis, a Staunch Book Prize supporter, read from Anna Porter's The Appraisal. Australian author Jock Serong's British relatives also came along and his aunt Liz Parsons read from On The Java Ridge on his behalf.

And the winner is…
Doon finally announced the winner as Jock Serong for his exceptional thriller On The Java Ridge. His family audibly gasped with surprise! They all came on stage to accept the engraved glass award and where truly delighted. Jock has also received the £2000 prize money.

A Huge Thank You…

To everyone who has supported Staunch in our first year, and a special thanks to all entrants who recently took part in our Entrant Survey, giving us vital feedback.
Together, you've shown overwhelming levels of support for the prize, along with a few suggestions that we will try to incorporate next time.

We'll be back in touch soon!
Until then, happy reading!

Bridget 
and the Staunch Book Prize Team